On the morning of October 22, 2011, Ivan and I went to pick up our passports in the lounge.
Ivan, Lil Dave and I  got off the cruise ship and headed to the port exit.  We got picked up by our guide for the Egypt Private Excursions tour at 8 am.  It would just be us on the tour.
Our guide was a nice Egyptian man.  He told us about the history of Port Said and Egypt in the car.  It was WAY too early for a history lesson.  The car ride was making me tired and I was falling asleep.  The guide noticed this and said he'd let us rest for 10 minutes and then he'd continue talking.  Ivan asked the driver to book the Nile River Cruise for us tonight.
We drove to Cairo.  Cairo is not a pretty city.  It looks very run down.  The traffic is horrible.  People drive crazy – they don't stay in their lane at all.
The first stop was the Citadel.  It's really pretty inside filled with lots of lamps.
The ceilings were quite impressive as well.
Next, it was time for lunch.  We went to Soiree.  It was a buffet lunch which wasn't very good.
We drove to the Egyptian Museum for our next stop.  Unfortunately, we weren't allowed to take pictures inside.
There are over 200,000 artifacts in this big museum.  We saw many big statues.  We saw the tomb of King Tutankhamen and his treasures.  Our guide was a wealth of knowledge and told us about many of the artifacts.  At the end, he asked if we wanted to check out something else on our own.  Ivan told him that we'd be back in 10 minutes.  We went to check out the mummies since I wanted to see them up close.  It's sad that the process of mummification is lost.
The driver drove us to the hotel.  We checked in to Mena House Oberoi.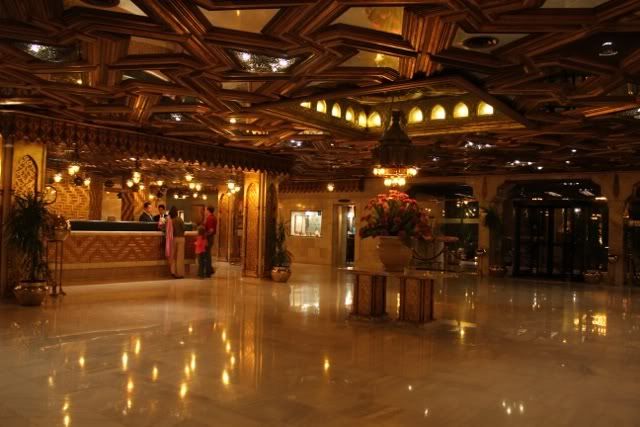 Our guide said that he would be in the lobby at 6:30 pm to pick us up for the cruise.
Ivan, Lil Dave and I chilled in the room.  Ivan and I took showers.
We walked down to the lobby around 6 pm.  I walked around and took a few pictures of the hotel.
We saw our guide in the lobby at 6:30 pm.  Ivan, Lil Dave and I boarded the car.  The journey took an hour since the traffic was so bad.  The guide told us that Cairo, Egypt should have 5 million people in it, but it actually has 23 million living there.
We got on the boat and were sat down at our own table.  The Nile River Cruise would start at 8 pm.  There was a buffet of salads and dips.  Ivan, Lil Dave and I got some salads and started eating.  There was cheesy karaoke style music going on.  It was really bad.  Ivan hoped that the entertainment would get better.
Ivan and I ordered fish for our main course.  Lil Dave was sad since they didn't have a banana dish option – so he went back to the salad buffet.  Ivan and I ate our fish and enjoyed our red wine.
We went outside to take some pictures of the Nile River.
The scenery was okay.
Later on, a twirler came on.  The guy twirled around for ages to music while holding things.
He came to the tables and twirled his skirt around people's heads.
A pretty belly dancer came on next.  She danced forever (ok, like 30 minutes) to the same song.  Belly dancing is good for 5 minutes and then it just gets old.  Ivan think it's like strippers for the Muslims.  The belly dancer had three different songs – but the same dance.  The river cruise was alright – nothing special really.
We left the boat a few minutes after 10 pm.  We started driving back at 10:20 pm.  It was a shorter ride this time.
We got dropped off and went to bed after arriving to our room.
Source: Egyptian Museum picture